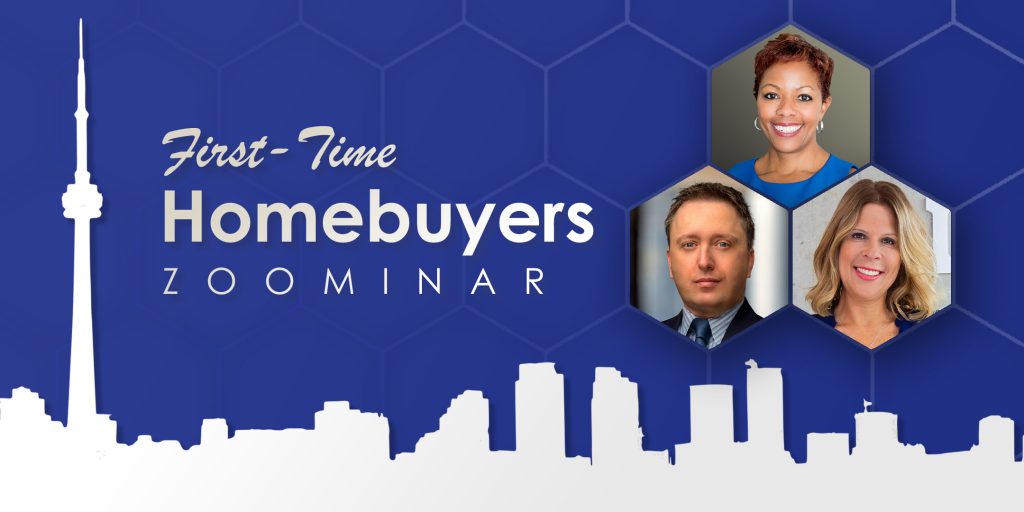 Attention: Renters! Take an hour to learn how to buy the space of your dreams.
Does making your first home purchase make you want to throw up a little?
Then join us for the FIRST-TIME HOME BUYERS ZOOMINAR
Location
Your Computer (Zoom)
Contact
info@househuntingbootcamp.com
Cost
Donation to Second Harvest
---
Attend this information session at NO-COST and NO-OBLIGATION and arm yourself with the information that you need to know to make the most important purchase in your life. Learn the 25 things you need to know as a first-time home buyer in Toronto. Break through your fears of what it takes to become a home-owner.
Join the ranks of home-ownership in 2021. This is YOUR decade!
At this 1 hour ZOOMINAR, you'll learn:
• The 5 number biggest mistakes first-time home buyers make and how to avoid them
• Ways to save money over the life of your mortgage that the banks won't share
• The differences in owning a house vs. a condo
• What builders don't tell you that you need to know before you purchase a pre-construction condo in Toronto
• Discover the hidden costs of buying your first property
• The tax credits available to first time home buyers
Want to purchase your first home in 2021? Then this the zoominar for you to find the best property at the right price for you!
---
About your host Davelle Morrison
Davelle works for Bosley Real Estate Ltd., Brokerage and is ranked in the top 5% agents in her brokerage. She loves working with first-time home buyers to make sure they get all the facts they need to make the right decision. She has been a real estate investor for more than 15 years and has been selling real estate for more than 8 years.
Davelle has also been featured in Canadian Real Estate Wealth magazine and is regularly interviewed in the Globe & Mail, BNN Bloomberg & CTV News Channel. Ms. Morrison has co-authored the best-selling book titled, Success Today with Best-Selling author and speaker, Brian Tracy. Davelle has been on air on the DIY Network & HGTV as the real estate agent on Holmes And Holmes.
Learn more: www.morrisonsellsrealestate.com
Guest Speakers
Leanne Shearer, Mortgage Agent, Dreams Within Reach Mortgages Inc.
Leanne is founder of Dreams Within Reach Mortgages. She is in the business of making dreams of home ownership come true. Purchasing her first home at the age of 26 she can fully relate to the anxiety and stress buying real estate can be. She has strong relationships with various lenders that offer a mortgage product that will fit any portfolio. Her clients are treated with VIP service providing full transparency and support from start to finish and beyond!
Learn more: IG: @leanne_mortgagedreams or www.leanneshearer.com
Dimitri Kanavas, Real Estate Lawyer, Kanavas Professional Law Corporation
Dimitri Kanavas is the principal lawyer of Kanavas Law Professional Corporation. Since completing his law degree over ten years ago, Dimitri has expanded his efforts to various types of clients and legal practice areas working in both the US and Canada. Dimitri completed a Masters of Law in the United States and spent some time working with a securities firm in the US before returning back home to Toronto and eventually starting his own practice. Dimitri currently practices in real estate law, business law, litigation and wills and estates. Dimitri knows first hand the importance of being well informed as a new home buyer and the challenges new home owners face in today's market. He enjoys working with and assisting first time homebuyers in advising them of their legal rights and what to look out for when buying a new home. In 2020, he was voted the Toronto Star Gold Winner for best Real Estate Lawyer in Toronto.
---
About Second Harvest
Second Harvest is Canada's largest food rescue charity with a dual mission of environmental protection and hunger relief.
They redistribute nutritious, unsold food from across Canada to charities, non-profits and Indigenous communities in every province and territory. Their free, essential service helps nourish people through school programs, seniors' centres, shelters, food banks, and regional food hubs.
In 35 years, Second Harvest has rescued over 155 million pounds of healthy food, keeping it out of landfills and preventing 192 million pounds of greenhouse gases from entering the atmosphere.