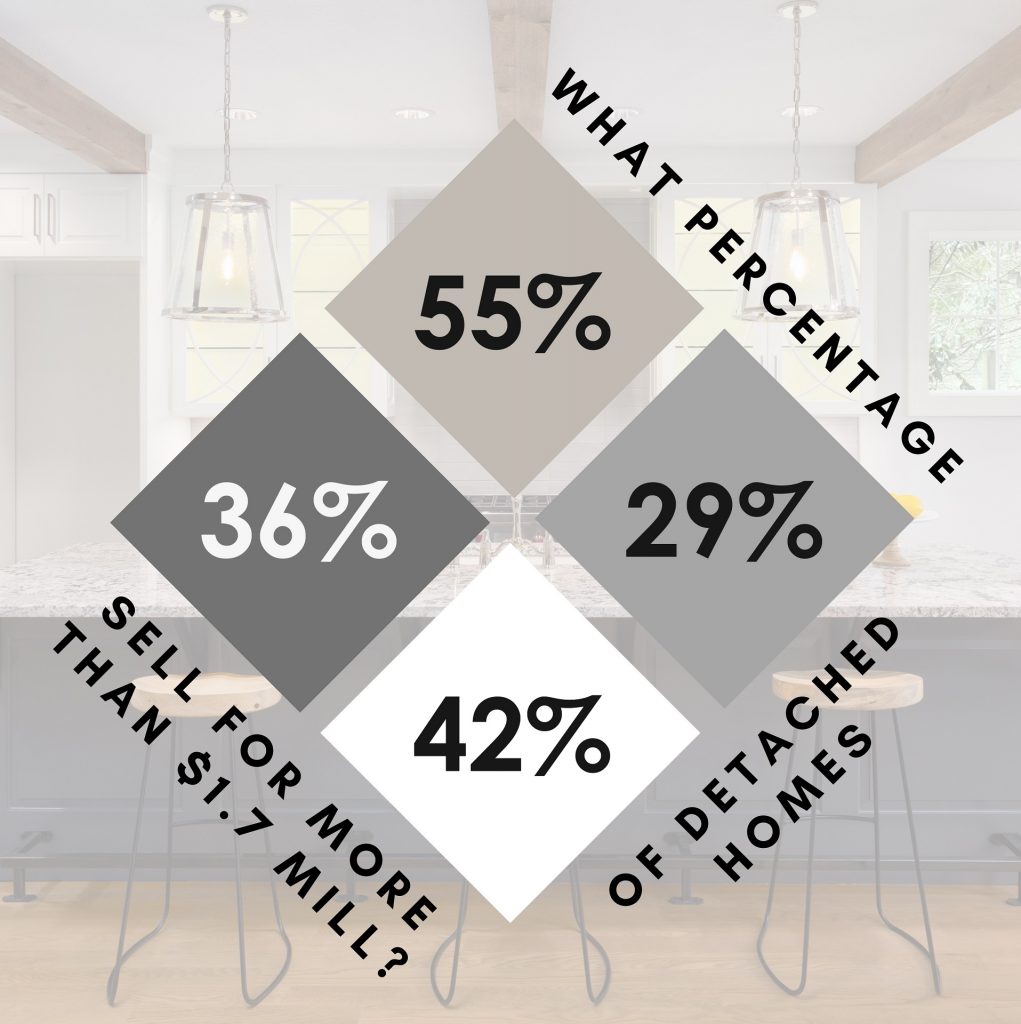 What percentage of detached homes in Toronto are selling for more than $1.7 million?
You've seen the headlines. Housing prices are on the rise. Buyers are getting frustrated with the high prices and the bidding wars.
Given the low interest rates and the need for more space, we don't see housing prices going down anytime soon. In fact, it seems as though the only way is up. As much as we might complain about the high prices of housing right now, in 5 years, we'll be saying, "Do you remember when a detached house was only $1.7 million?" I know this sounds hard to believe.
So just how expensive are detached houses becoming?
During the last week of 2019, only 35% of detached homes were sold for more than $1.7 million. During the first lockdown last March, there were weeks when between only 22% to 35% of homes sold for more than $1.7 million. As the summer began, those numbers increased to between 40% and 47%. The fall remained fairly consistent hovering between 35% to 45% of detached homes selling for more than $1.7 million.
Then there was one week in December 2020 when those numbers spiked so that 60% of detached homes sold for more than $1.7 million.
For 2021, the housing prices have increased even more and now there are more consistent weeks in which 53%, 55% and 56% of the detached houses are selling for more than $1.7 million.
What percentage of homes will sell for more than $1.7 million later in the year?
My prediction is that these percentages will grow higher over time. Interest rates are still low, so buyers feel that they can take on more debt. Also, most buyers are saving money by not traveling, eating out or buying luxury goods.
Most people buying detached houses in Toronto are not first-time buyers. They most likely have a condo or a semi-detached home to sell and since those prices are on the rise, it helps to make the detached home more affordable.
It does mean that those in semi-detached houses really need to consider if the move up to a detached home is really worth it. Those considering a move to the detached market need to do it sooner rather than later before prices become even higher.
My advice?
Buyers should not sit on the sidelines thinking that real estate prices will decrease for them.
---
Communities in Toronto
---
Thoughts? Questions?
Get in touch with me: 416.509.3286 or Davelle@BosleyRealEstate.com