As a real estate agent and seasoned real estate investor, I'm always asked the question.
"Where should I invest?" I would usually say, "Anywhere you can afford to so that you can obtain positive cashflow."
Over the last year, the Toronto rental market has taken a beating. Rent prices have come down significantly and vacancy rates have skyrocketed. Rents have gone back to where they were 5+ years ago, which isn't great news for investors. The only real estate investors who win in this scenario are the ones who have owned their properties for many, many years and can still have positive cashflow.
As far as real estate predictions go, no one saw this change in the rental market coming. In fact, no one predicted real estate prices would rise as much as they have in 2020. Economists and the CMHC were predicting that real estate prices in 2020 would come down. They were all wrong.
In 2020, real estate prices rose and rents came down significantly. This is not a good combination for real estate investors.
So where should a real estate investor go for better returns than they can find in Toronto?
Firstly, I will say that I love the Toronto real estate market, where I am luckily a real estate investor. But where should you go if you can no longer make the numbers work in Toronto from an investor perspective?
Where is the gold in them thar hills?
I've thought long and hard about this over the years and I believe that the new promised land for real estate investors lies in Prince Edward County. Affectionately called The County. For those of you who don't know where the County is located, it can be found 2 ½ hours east along HWY 401.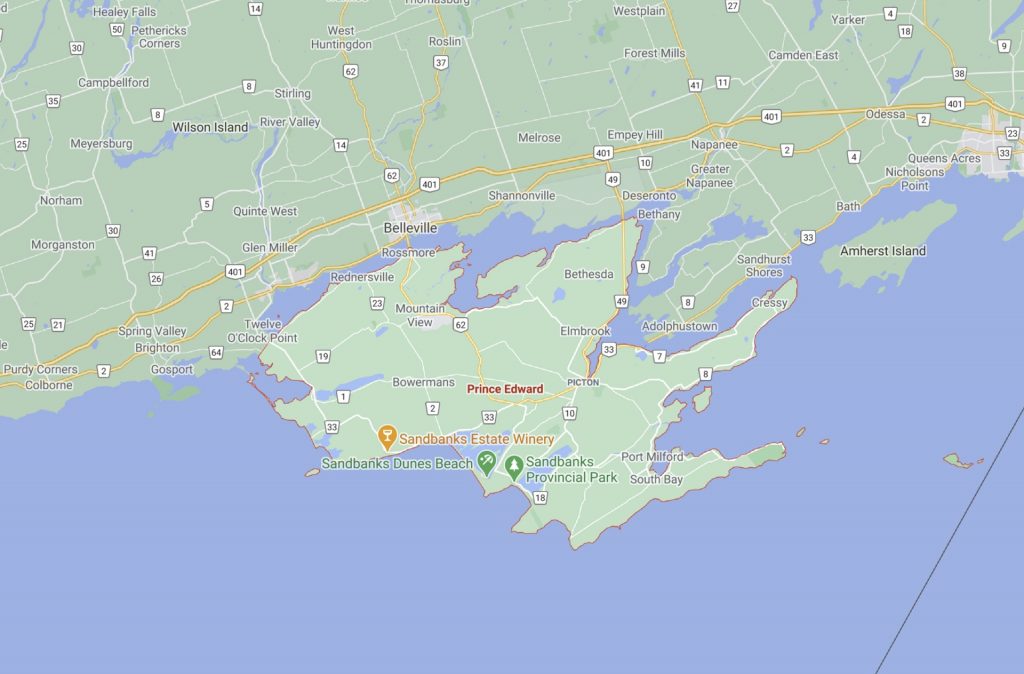 Why have I selected Prince Edward County?
(Full disclosure, I do own a couple of properties there.)
The County has a huge demand for long term rentals. At least twice a week, I am being messaged by someone desperately seeking a long term rental in the County because they are so hard to find.
Prince Edward County has a very large tourist community and many investors have purchased short term rentals which are listed on Airbnb, VRBO or other platforms for the tourist market. However, the people who work in the tourism industry are in need of long-term rentals. Long-term rentals in The County is extremely hard to come by.
When I post my long-term rentals on the market, I have no shortage of applicants.
The price of homes in The County is much cheaper than homes in Toronto. The rental demand and prices are climbing since the supply is low. Where demand exceeds supply, there is opportunity.
And for investors, I see the huge opportunities for long-term rentals in The County.
If you buy a property in the County that can be turned into 2 units, that's even better.
Realtor, Tammy Noyes, from Century 21 Lanthorn, Picton has seen prices increase dramatically in just one year.
The demand for real estate from those either fleeing the city or buying a vacation property has increased sharply. Although prices have increased significantly, the prices are still quite affordable for investors from Toronto.
So if you are looking for opportunities as a real estate investor, the opportunity awaits you if you go east to Prince Edward County.
---
Thoughts? Questions?
Get in touch with me: 416.509.3286 or Davelle@BosleyRealEstate.com