This is a 3-part blog series on how we found a rental property in Barbados to buy sight unseen during a pandemic while being in Toronto, Canada.
In early 2020, a friend and I chatted about buying an investment property in Barbados. Both of us had been real estate investors for many years and were looking to branch out beyond the Canadian borders. I had been running a 6-suite guesthouse in Prince Edward County, 2 hours east of Toronto for the last 4 years successfully and started thinking that a rental in a hot, sunny climate was bound to also do well.
So I booked a vacation in Barbados with a few girlfriends over New Year's 2020 and started to become more acquainted with Barbados. I loved it. I loved the people, I loved the restaurants, I loved the weather, I loved the fact that I could walk everywhere, I loved how close we were to the beach. It somehow felt like home even though I was born in Guyana and had never set foot in Barbados.
I was lucky enough to find my friends and I an Airbnb rental in Holetown in the community of Sunset Crest on the West Coast of Barbados. What I loved about this area was its walk-ability. I could relate it to the convenience I experienced living in midtown Toronto. The beach, restaurants, mall and grocery store were all within a 4 minute walk from where we stayed. I also had a friend with a house in the area.
Before I had arrived, I had been in touch with a real estate agent on the island so that I could see a few properties while I was there.
I had the opportunity to see properties around the island; some were great and just too expensive and some not so great as they weren't in the right location. At the time, I didn't even have my financing together so I had no idea how much money I could actually afford to spend on a house but I knew from past experience if I didn't do my research to see what the possibilities were I would never take the next step. What's funny about this is, as a full-time real estate agent in Toronto, I would never show someone properties without knowing that they had met with a mortgage broker and had a definite idea of how much they could actually afford to spend. I would have hated myself as a client but here I was touring properties I had no idea if I could even afford.
While touring the properties, I met one of the owners who was also from Canada who explained to me how they structured the ownership of their house. They had a company registered in the British Virgin Islands which owned a corporation in Barbados in order to buy their property. Sounds complicated but I learned that that's how things were done in Barbados. I would later find out that in order to avoid the payment of a 1.5% stamp tax when you sell the property, that it's better to own the house in the name of a corporation.
My realtor was Canadian and she had moved down there to sell real estate.
While we were touring properties, the listing agent was also present to give me details of the property. In Barbados, you can only see properties with the listing agent present. What struck me as odd was that I couldn't find out how much people had paid for the properties they were selling or for how long they had been on the market from either agent. I was used to the system in Toronto where any information I might need, could be found online. The agents in Barbados didn't seem to have access to the same useful tools we had at home.
I enjoyed the rest of my 2 week stay in Barbados and decided that it was definitely a place for me to invest.
This was January 2020. In March of 2020, the coronavirus took hold of the world and the world was in lockdown. Business stopped. Flights stopped. Travelers were told to come home. Toronto's real estate market stopped for approximately 3 months and then came roaring back.
In this new coronavirus world of no travel, everyone started looking for vacation spots closer to home so I started thinking of joining that bandwagon. Once we were allowed to re-open in the guesthouse in Prince Edward County, bookings came flooding in. People were dying to get to a beach since they couldn't leave to get to the Caribbean or Mexico. They came to PEC for the Sandbanks Provincial Park. Everyone with a cottage anywhere in Ontario was flooded with booking requests. I started to think maybe buying a cottage somewhere in Ontario was a better plan than buying a house in Barbados that I couldn't travel to.
I had another friend who agreed to buy a rental cottage with me. We started looking for a waterfront property in PEC, Tiny & Bala. It was now the late fall of 2020. I had grown accustomed to travelling each winter to a hot and sunny destination and couldn't believe that I was about to spend an entire winter in Toronto so I started to think a cottage could be a great idea. We found properties that were okay but nothing really jumped out at us. I also had a friend remind me how much I hated winter & being cold and a cottage during the winter would be a very cold place to stay.
In January 2021, my friend who I had been discussing purchasing a Barbados investment property suggested that it was time to re-consider investing in Barbados as the world was getting back to normal.
I started thinking that it was a good time to buy as sellers in Barbados must be eager to sell given the lack of tourists over the last year. I connected with my friend whom I had been searching for cottages with and she confirmed that she would also be interested in investing in Barbados. So, we switched gears and now the 3 of us were Barbados property search bound.
I reached out to my previous agent and learned that she had now moved back to Toronto during the pandemic. I decided to reach out to the listing agent who had toured us through properties just a year ago. She sent me information about buying in Barbados. I reached out to banks in Barbados to see what kind of financing we could get. We started scouring the internet for listings. Barbados did not have a centralized MLS system for home searches so I would spend hours scouring every website I could find.
Our agent suggested a law firm for us to use.
We began the process of selecting a name for our corporation with the law firm. We must have given them 20+ possible names to try until we finally settled on a name. This corporation was then registered in the British Virgin Islands (BVI) and registered in Barbados. Because transactions in Barbados & BVI must take place with live signatures vs electronic ones, the lawyers are placed as directors for the corporation until the property closes and we could sign the transfer documents live.
Our agent assured us that this was the way things were done in Barbados. In fact, she mentioned we should keep the lawyers on as directors of the corporation and never transfer it into their names. I thought it sounded like an interesting way for people to hide assets from their spouses or the government. I was learning a lot and started to think that I was living in the movie, The Firm.
The property search had begun.
We would narrow down our list and our agent would book showings to take us through the properties via video on WhatsApp. Our borders were closed and we simply could not fly to Barbados so we would have to make the video showings worked. In addition, Barbados was also in and out of lockdowns. While in Canada, realtors were deemed essential and could keep working, but in Barbados they were not so we could not view houses while the lockdowns occurred. We did much of our research online and would reach out to our agent for clarification so that we were prepared when Barbados was out of lockdown and our search could resume.
Our agent had mentioned a property called Villa Mango to us but we had dismissed it as the pictures were less than enticing.
We arranged to view a few more properties with her giving us the video tour. We wanted a 3 bedroom house with a pool. That was the criteria we set for ourselves. We found a house that seemed appealing to us as it was next door to one of our friends and had a pool. It needed quite a bit of work so we placed an offer on this house for $575,000USD. It was listed for $600,000USD. The owners refused to sign back our offer so we decided to move on. In addition, one of my friends said he noticed that all of the air conditioning units looked as though they would need to be replaced immediately.
We continued our property search. We saw a few more lemons. Our agent suggested Villa Mango to us again and this time we figured we might as well give it a chance. Barbados went into another lockdown so we would have to wait another few weeks to see it. When the lockdown was over, our agent booked our video tour. We liked it much more than we thought we would. We realized it needed some work but less work than the other property that we had offered on.
We put in our offer for Villa Mango and then waited and waited for an answer.
Things take much longer than any of us would like in Barbados. We were hoping that the vendors would at least sign back our offer of $555,000USD. It had been listed for $600,000USD and had been on the market for at least 2 years. Much to our surprise, our agent informed us that the vendors, who were in England had accepted our offer and the house was ours. This was in February. We had opted for a long closing date of Oct. 7th, 2021, mainly so that we wouldn't have to pay for a property we couldn't use over the summer. Our plan was to fix up the house in Oct/November and have it ready to rent by late November. Of course things don't always go as planned.
I went back to the bank to continue the arduous process of trying to get a mortgage. After much back and forth with the bank, we found that getting a mortgage would be impossible because of their strict requirements. So we would have to self-finance the house through our respective properties and lines of credits.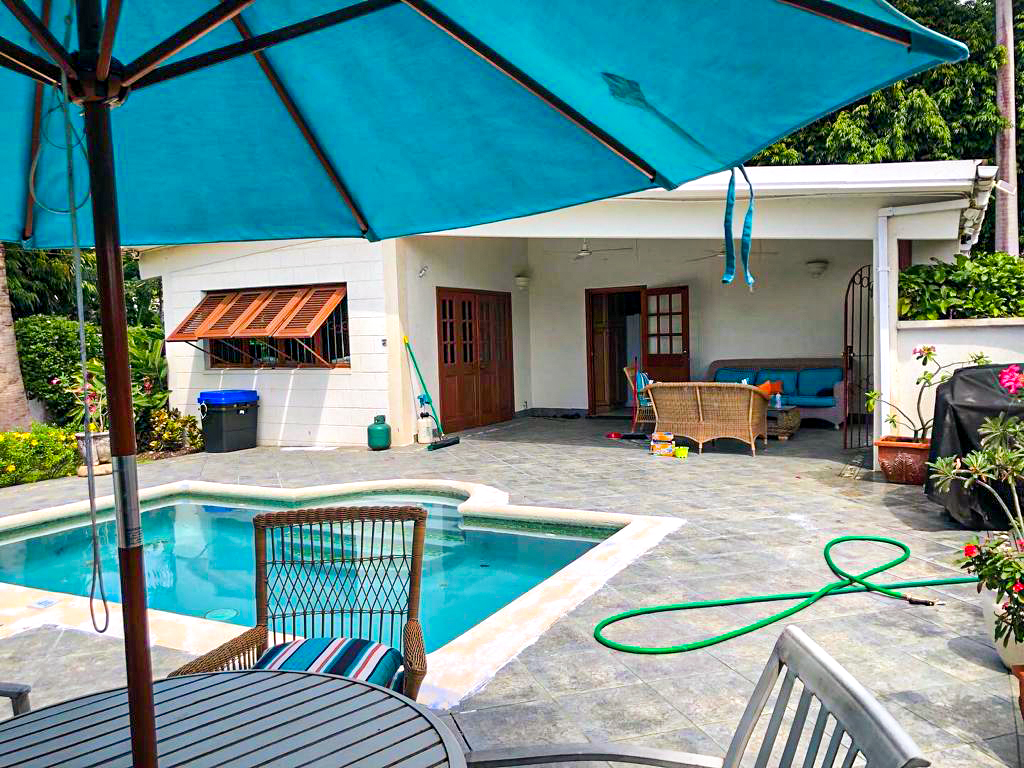 We spent the summer months looking for furniture and décor to purchase for the house.
It would prove to be too difficult and too expensive to shop in Barbados, so we decided to ship everything via a shipping container. But of course, during the summer of 2021, there was a massive shipping container shortage. After much negotiation, one of my friends was able to secure a shipping container for us. We acquired a storage locker close to my office so that I could accept deliveries when I needed to. We spent a lot of time shopping in some great décor stores, making sure we thought of everything that we could possibly need. Everything from towels to linens to door locks that operated with punch codes to artwork. Everything we would need to set up a beautiful Airbnb. We definitely went over budget with our shopping and would eventually need a second storage locker to fit everything.
When all of the items were purchased, we needed to get the shipping container company to take all of our items.
We experienced continual delays waiting for the shipping container company to pick everything up. We realized our furniture and décor items would not arrive at the same time that we would be in Barbados to fix up the house after doing our workback schedule. This was a major setback. We agonized over rescheduling our flights and pushing our dates back. But decided that it would be best to stick to our original dates as there was still so much to do in the house.
We finally received a date in September for the shipping container company to pick up everything from the storage lockers. Everything was hauled away into a truck and it would be driven across the country to Halifax to be placed on a container ship. Our adventure continued. My friend now had a tracker so he could see where our container was on its travels down the Atlantic Ocean enroute to Barbados.
---
Vacation Income Property $ecrets (VIP$)
What if you could…
Live the life you want.
Have the income you want.
Own the vacation or retirement home you want.
YOU CAN!!
It's all just one click away.
What could you do with your life if you had step-by-step help from someone who's been there?
The adventure of a lifetime awaits!