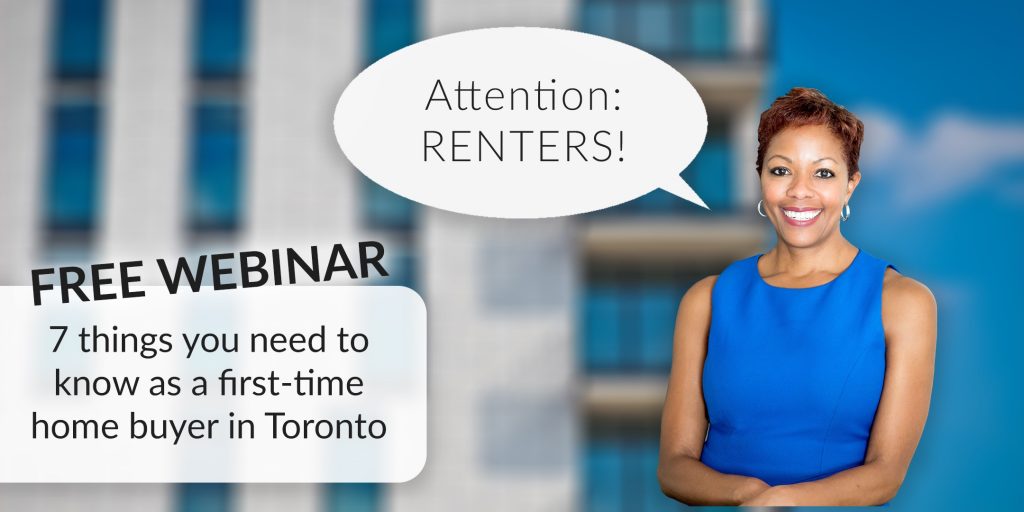 Attention: Renters!
Would you like to learn how to buy the space of your dreams? Does making your first home purchase make you want to throw up a little?
Then join us for the FREE HOUSE HUNTING BOOTCAMP – 7 things you need to know as a first-time home buyer in Toronto!
Learn the 7 things you need to know as a first-time home buyer in Toronto. Break through your fears of what it takes to become a home-owner.
Join the ranks of home-ownership in 2020. This is YOUR decade!
_____________________
Drop in your name and email to get the link to the House Hunting Webinar Replay. I'll send you other tips too that will help you!
---
At this 30 minute WEBINAR, you'll learn:
The 7 biggest mistakes first-time home buyers make and how to avoid them
Ways to save money over the life of your mortgage that the banks won't share
The differences in owning a house vs. condo
What builders don't tell you that you need to know before you purchase a pre-construction condo in Toronto
The tax credits available to first time home buyers
Discover the hidden costs of buying your first property
Want to purchase your first home in 2020? Then this the webinar for you to find the best property at the right price for you!
---
Testimonial from my previous event
We loved the house hunting bootcamp as it gave us the right level of information that we needed to get started in the process. The next thing that we valued a lot, was to have a whole team (Real Estate, Lawyer & Broker) at the same time and get the advice and information from all of you.
---
About your host Davelle Morrison
Davelle works for Bosley Real Estate Ltd., Brokerage and is ranked in the top 10 agents in her office. She loves working with first-time home buyers to make sure they get all the facts they need to make the right decision. She has been a real estate investor for more than 10 years and has been selling real estate for more than 7 years.
Davelle has also been featured in Canadian Real Estate Wealth magazine and is regularly interviewed in the Globe & Mail, BNN Bloomberg & CTV News Channel. Ms. Morrison has co-authored the best-selling book titled, Success Today with Best-Selling author and speaker, Brian Tracy. Davelle has been on air on the DIY Network & HGTV as the real estate agent on Holmes And Holmes.