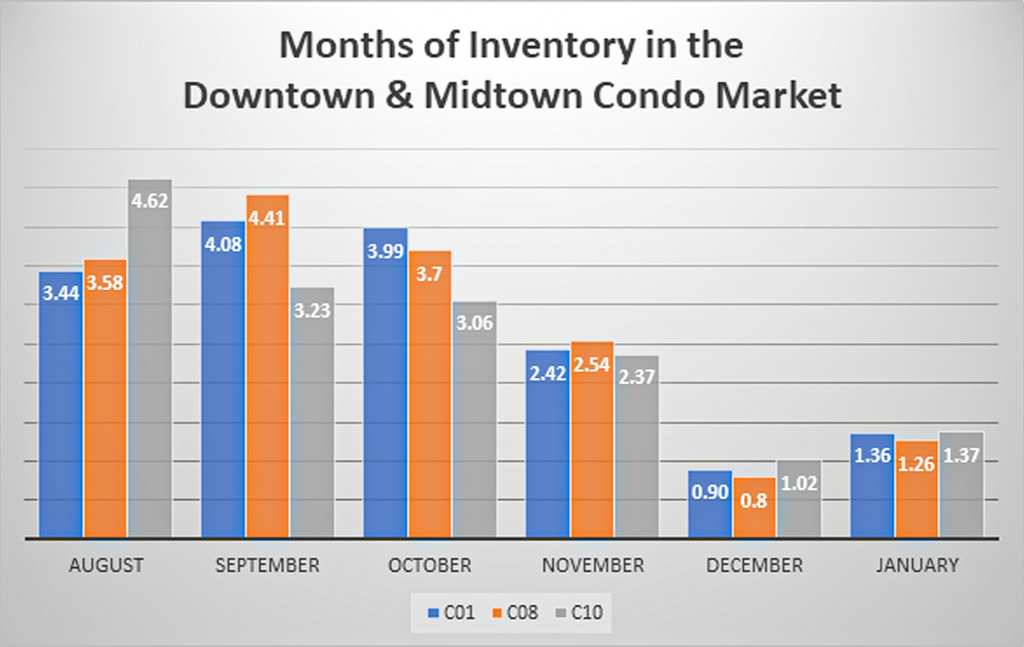 Last year we noticed a huge shift in Toronto's condo market. I remember in June 2020, we listed a condo in the King & Sherbourne area, close to the St. Lawrence Market, which had 70 showings. It was listed at $825,000 and sold for $971,000 after multiple offers. Two months later, we listed another condo around the corner at Yonge & The Esplanade, which had 5 showings and 2 offers. It was listed for $700,000 and sold for $706,000. Our fall downtown Toronto condo listings received less than 5 showings over 4 weeks. Clearly, the downtown condo market had taken a turn for the worse.
In the above chart, you can see that the months of inventory in August for condos in C1(south of Bloor St & west of Yonge, east of the railway line), C8 (south of Bloor & east of Yonge St, west of the DVP) & C10 (north of Merton, east of Yonge, west of Bayview, south of Blythwood) was well over 3 months. That number remained consistent in September and throughout the fall, we can see that sales were picking up in November and December, there was less than a month of inventory in C01 & C08 and exactly 1 month of inventory in C10. In January 2021, there was just 1 month of inventory.
What does months of inventory mean?
It measures the supply and demand in the housing market. It's the ratio between the number of new listings against the number of condos sold. It would take x number of months to completely sell all of the condos that are currently listed for sale.
Condos are selling at a much faster rate than they were just 6 months ago. It's incredible to see such a sharp turn around in the downtown Toronto condo market. Most of the sharp swings can be attributed to the large number of new listings coming on the market. The new listings can't be absorbed fast enough by the number of sales in the market. The number of new listings came down drastically in the month of December. February looks as though it will be consistent with the numbers we see in January but only time will tell.
It certainly means that there is an opportunity for those selling condos to get on the market soon to take advantage of the current market.
---
Questions? Comments?
Contact me: