This is a 3-part blog series on how we found a rental property in Barbados to buy sight unseen during a pandemic while being in Toronto, Canada.
Make sure you read the first part: The Journey of Villa Mango, Barbados (Part 1): How We Got Started
---
Next, we started to plan for our Oct. 18th arrival in Barbados with our closing date of Oct. 7th looming. Much to our shock, October 7th came and went without an email from our lawyers. When I contacted them on Oct 8th to ask what happened to our closing date and why had no one asked us to wire the funds to close, we were met with silence. Finally, they responded to let us know that the closing had been delayed. Until what date, no one could tell us. We let them know that we had plane tickets and 6 of us were scheduled to arrive on Oct. 18th so we definitely needed to close by that date so that we wouldn't be homeless.
During the week of Oct. 11th, we tried to get Villa Mango ready remotely for our arrival by making it a quarantine home for us when we arrived.
In October, the Bajan government had a rule that meant that when we landed, we would have to take another PCR test and would require a place to quarantine for 24 hours while we waited for our results. In order for a house to be made into a quarantine house, we needed to have cameras around the house and internet so that the cameras could be monitored by the government. We just needed access to the house to get the internet connected. The current property manager for Villa Mango refused to give us access to the house so that we could get the Wi-Fi hooked up. This became another source of stress.
In addition, we were becoming more stressed about the fact that there was little progress in closing on this property. We were finally asked to wire transfer the funds to the lawyers later in the week. Wire transfers can take a few days to show up in accounts. They received the funds on Thursday, Oct. 14th. We were slated to arrive on Mon. Oct. 18th. By Friday, Oct. 15th, we learned that they would miss the Oct. 18th deadline. Because they rely on live signatures, they had been waiting for a FedEx package to arrive from the vendors in England with the closing documents signed. I thought to myself, "Why were these documents not sent in September for signature to avoid these kinds of delays?!"
Now we needed to start thinking of other places to stay.
We reached out to the current property manager of Villa Mango again to see if we could stay in our house. She refused. She said we would need to pay in order to stay in our house which we thought was absolutely ridiculous. We began searching for a place to stay where we could quarantine.
We now had to find accommodations for 6 people and a place to store our 15 pieces of luggage as we had to bring down a ton of items with us in order to work on the house. On Sat., Oct. 16th, we reached out to the current property manager to ask her how much she would charge us to stay in our house. She took a long time with responding to us, which only increased our stress levels. She then said that she hadn't heard back from the current owners about us staying in the house so she would not allow us to stay there.
So, on Sun. Oct. 17th, I had a room at the Crane booked for our first night so we had a place to quarantine. The Crane was a very nice hotel, and not cheap, but we were left with little choice. I had also decided that, given our stress level, we would need one suite for all 6 of us and I wasn't about to be stuck in a hotel room without a pool. If this nightmare was going to continue then I needed to stay in the best hotel suite I could find.
We had convinced a few of our friends to help us so the 6 of us arrived at the airport on Mon. Oct. 18th at around 6am.
We had 15 pieces of luggage and struggled to make our way through the airport. When we tried to check in our luggage, we found that a few of our suitcases were overweight, which meant that we were all sprawled out on the floor of the airport trying to re-pack and shift items into lighter suitcases. At one point, there were 3 of us sitting on a suitcase in order to make it close.
Next, we had to go to the over-sized luggage counter, where we found our neatly packed & sealed containers were too large to fit through the scanner. So, now we had to open the containers to send the items through individually. This process necessitated 2 of my friends standing behind the counter with the security people to have our items scanned. Once this process was done, everything had to be re-packed. Once we re-packed and re-sealed the containers, we could go through to the gate. I've never felt such relief as I did to have all of our luggage processed and on its way. Our next fear was that not all of the 15 cases would arrive with us in Barbados.
We made our way onto the plane and were grateful that there were no other hiccups to encounter.
We landed in Barbados and were met at the airport by our concierge we hired to shepherd us through the airport. She hired porters for us to deal with our luggage. We then had to stand at the baggage claim to hope and pray that all of our 15 pieces of luggage arrived. It was a painful wait and took almost an hour for the first of our luggage to come through. It was like waiting for a horse to come in at the track as each piece of luggage came through for us. The moment we realized that all of the luggage was there, we could finally leave the airport.
We walked out of the airport to meet the 2 vans that were hired to take us to The Crane. One van was loaded with just our luggage and the other van was for us. We arrived at The Crane, unloaded and went into the lobby to check in. In the lobby they served us rum punch. We decided to take a moment to just sit in the lobby and drink our rum punch. It was a stressful journey and the rum punch took all of our stresses away.
We then were taken to our hotel suite and what a suite it was.
It had a stunning view and a gorgeous pool. With beautiful bedrooms and spa-like bathrooms. It was perfection. We then waited for the doctor to come to our room to administer our PCR tests.
While we waited for the results, we swam in our pool and ordered room service as more rum punch was definitely in order. We were finally able to relax. The next morning we all received our negative covid results which was another relief.
There was still the matter of when our house would close. Where would we sleep during the night of Tuesday, Oct. 19th? It was becoming clear that we still would not close on our home, so we booked another night at the Crane and continued to live large. During this time, I was constantly sending emails to the law firm to ask for when our nightmare would be over. Now it was Wednesday, our lawyers assured us that we would close the next day on Thursday Oct. 21st, so we booked yet another night at The Crane.
The lawyer told us that she was picking up the keys from the vendor's lawyer at 2pm on Thursday so we could meet her at her office at 3pm.
She explained that both her and the vendor's lawyer were extremely busy and simply could not exchange keys any earlier. I told her that we would need to check out of our hotel suite at noon so we needed the keys as soon as possible so she agreed to meet us in the parking lot of the vendor's lawyer's office at 2:05pm.
We pulled into the parking lot with our 2 vans and we piled out to get our keys. Our friends had agreed to memorialize the occasion with pictures and video of the key exchange. Once we had the keys in hand, we were excited for our next adventure and headed off to the paint store. Once we picked up the paint, we were enroute to Villa Mango, the house we purchased sight unseen many months ago.
Once we arrived at the driveway of Villa Mango, the excitement was real.
We had never seen the house live and this would be our first time seeing the house we had bought only through a video tour. Our friends agreed again to memorialize this occasion with video and pictures. They followed us around as we walked through the house to get our first impressions.
The house looked as I thought it had over the video with the exception of 2 things, one of my friends noticed that the roof was in terrible condition and would need attention soon. We also noticed that an extension of the back of the house was in worse condition than we initially thought. A structural engineer was hired to conduct a viewing of the house before we finalized our purchase, he had mentioned and taken pictures of the extension but it definitely looked in worse condition in person.
We settled into the house and started to unpack and work on the house.
The Wi-Fi and pool maintenance people showed up first. Then, there was a constant stream of texts that I was sending to our property manager whom I had met 2 years prior on my first trip to Barbados. We needed an electrician and asked her for a recommendation. We needed a plumber, pest control as there were cockroaches and rats on the roof. and a gardener. An electrician was needed as none of the bathrooms had plugs. We needed a locksmith as it took 6 different set of keys to open the doors & gates in the house.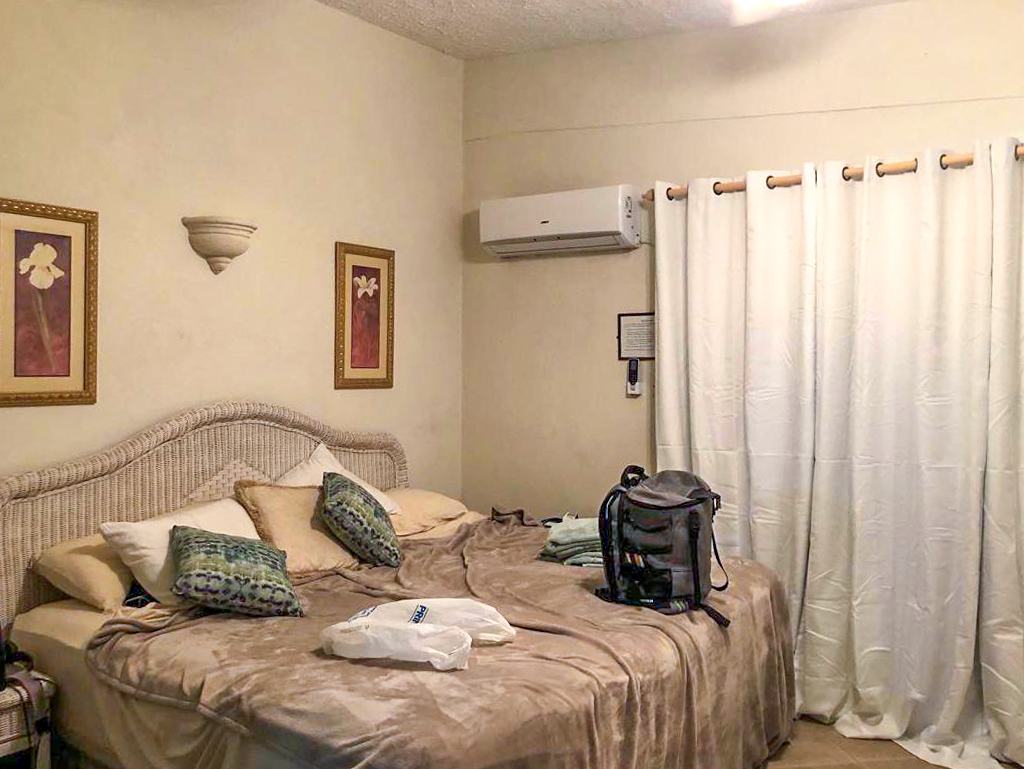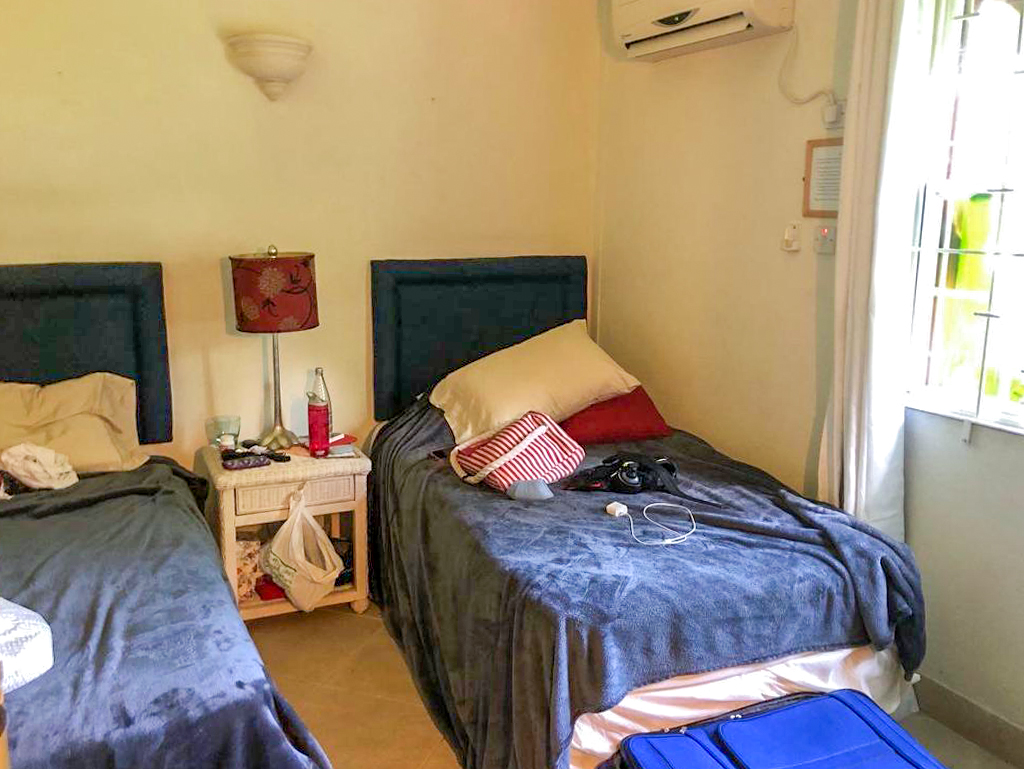 We had already engaged with a painter so they came and started working on the kitchen cabinets. They had to take them away to be spray painted white. Our gardener sent over someone to spray the rocks around the pool white and power-wash, then paint the wall around our property. Earlier that summer, there had been volcanic ash from St Vincent which had made its way to Barbados so that some of the exterior areas were slightly darkened with ash.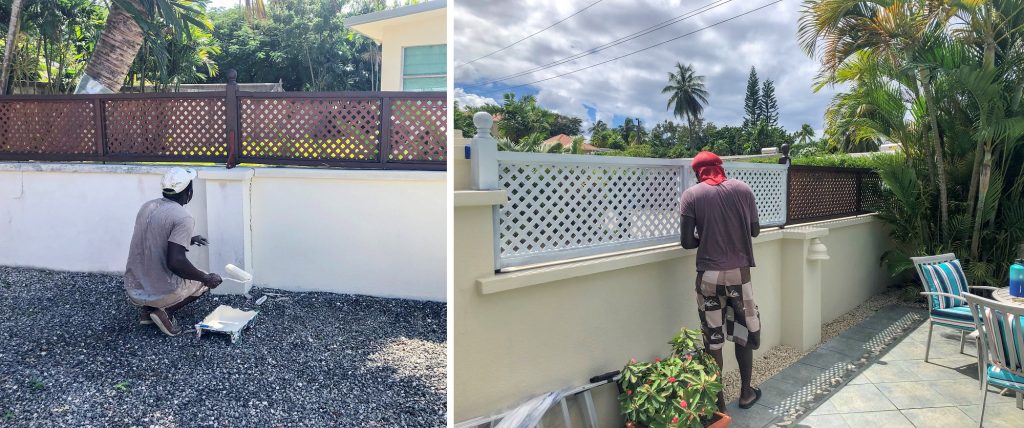 Day in and day out, we worked hard on the house.
Going out for breakfast and beach swims in the morning. Working all day and shutting down around 4pm for a pool swim and then a nice dinner out to one of the many restaurants.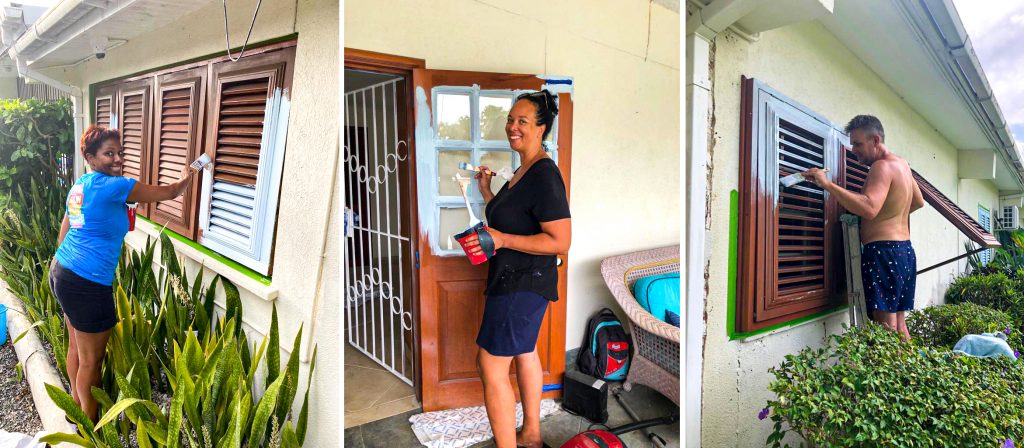 After a few weeks, the house was looking so much better. We were making real progress. Most of our friends had to head home. One of our friends stayed in Barbados for over 6 weeks to continue working on the house.
Next, we had to wait for that shipping container to arrive. The shipping container arrived in Barbados on Mon. Nov. 8th. Now, we just had to deal with the customs broker. They would need to itemize each item to figure out how much duty we owed. There were constant questions and delays from them. We had to send them all of receipts. They took forever to give us the total duty that we owed. Meanwhile, one of us was still in Barbados but 2 of us had to figure out when we needed to fly back to help unload the shipping container. We kept asking the customs broker for a timeline but we just couldn't get one.
We finally decided to hop on a plane and come back to Barbados on the weekend of Nov. 20th.
We figured out how much longer could they take to add up our customs fees? Apparently a very long time. Once we received the total, we had to wire transfer money into their account. Wire transfers can take a few days to arrive and we were told that once the wire cleared, then the customs broker would be able to pay the port authority and there was nothing we could do to shorten this process despite our constant requests for a better way to speed things up. Then somehow, the day after we sent the wire transfer through, the customs broker had a bright idea as to how to speed up the process, we could pay the Port Authority ourselves and this time we could use a credit card.
So now, me and one of my friends grabbed a taxi and headed down to the port authority with credit card in hand. It was such a large sum that my friend had to call his credit card company first to make sure they would approve this transaction in a foreign country.
We arrived at the port authority and were told to wait in line and noticed that the customs official starts to nod off and then starts snoring.
We were now next in line and then got to the counter to pay our duty. Prayers were made with our eyes closed as we swiped the credit card. Once approved, my friend and I are pumping our fists in excitement and relief that the transaction was approved. The customs official tells us that we made his day with our reaction. Now that the payment had gone through, we asked his colleague for some insight as to when the shipping container can be brought to our house.
At this point, we have all extended our flights because of these delays and were desperate to make sure that we didn't need to extend our flights again. They told us that we had to go back to our customs brokers to find out when the container would be delivered to our house.
---
Make sure you read the first part: The Journey of Villa Mango, Barbados (Part 1): How We Got Started
---
Vacation Income Property $ecrets (VIP$)
What if you could…
Live the life you want.
Have the income you want.
Own the vacation or retirement home you want.
YOU CAN!!
It's all just one click away.
What could you do with your life if you had step-by-step help from someone who's been there?
The adventure of a lifetime awaits!