Ever wonder about the average price of a one bedroom condo is along the TTC subway map?
Depending on the subway station you live closest to, values do change and it's all about the subway station.
The subway station does matter when it comes to values. This chart examines the values of a one-bedroom condo within 0.3 km (or approximately 394 steps) of a TTC subway station.
I wanted to see how the numbers would shape up myself so I created a map search with the Toronto Real Estate Board statistics to determine the average price and the price shift in 2017 from 2016 of one bedroom condos.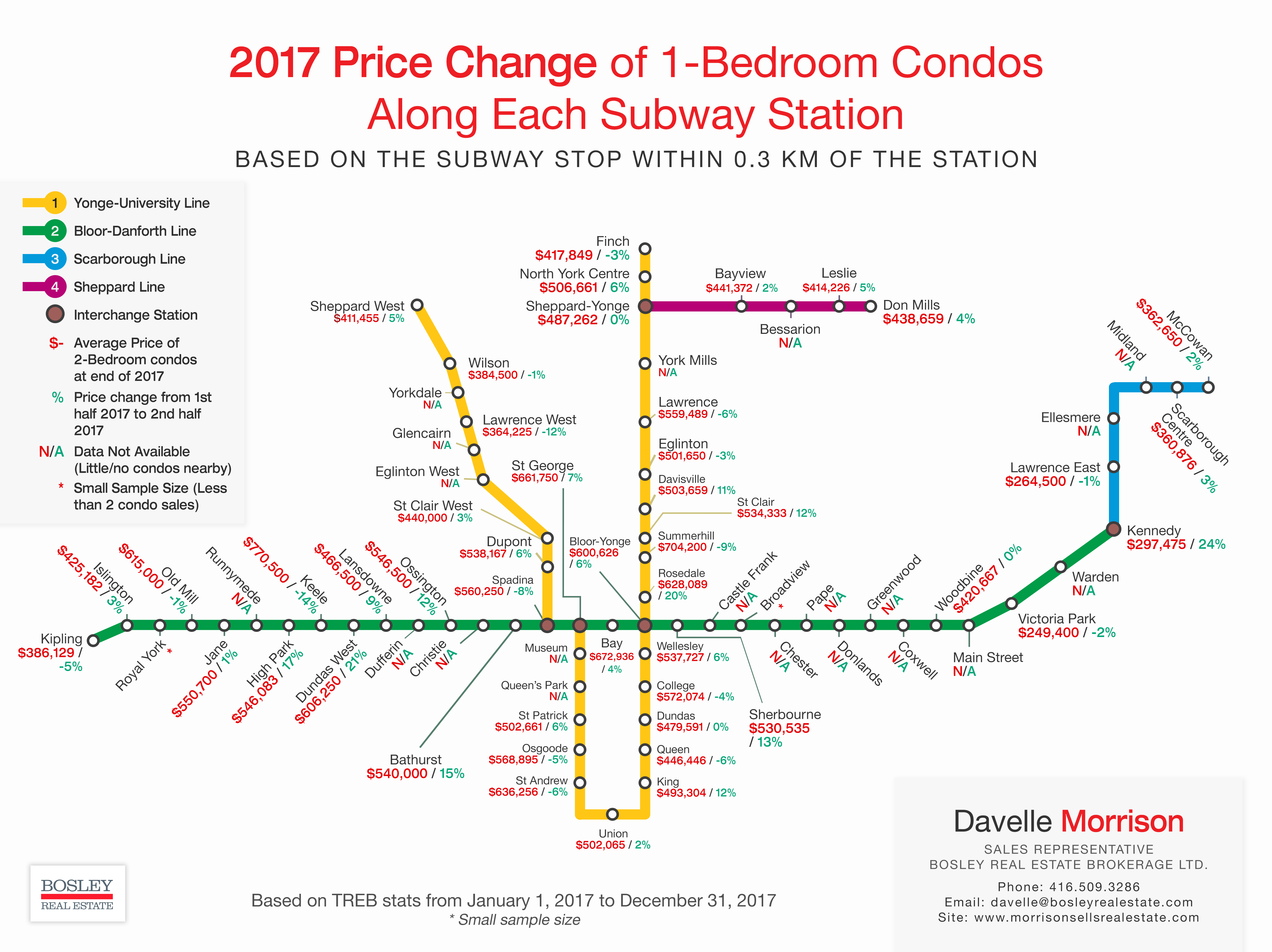 What I learned
The Yonge line is definitely more populated with condos than the Bloor line. In fact, there are many stations around the Bloor line with little or no condos surrounding them which is a missed opportunity.
The stations with the largest jumps in value were Davisville, St Clair, Sherbourne, King, Bathurst, Dundas West, Ossington & High Park.
The stations with the biggest price drops were Lawrence West, Keele and surprisingly Spadina. Give the strength of the Spadina neighbourhood it's surprising that this station faced an 8% decline in 1 bedroom condo prices.
The least expensive place to purchase a one bedroom condo, at a cost of less than $300,000, in this city are condos close to Victoria Park, Lawrence East & Kennedy stations.
The most expensive stations to purchase a one bedroom condo are Keele, Summerhill, St. George, St. Andrew and Rosedale. I think it's surprising that Rosedale station is only the 5th most expensive station, given how expensive the homes are in that area.
Some restrictions to note when putting together the statistics for this chart are that some stations didn't have any condos around them or there weren't enough sales to draw any conclusions.
Next time you're in the market to buy a 1 bedroom condo in Toronto, pull out your subway map to determine how much you'd like to spend and whether the returns will pay off for you.
Please let me know if you have any questions/comments.
---
Related Posts